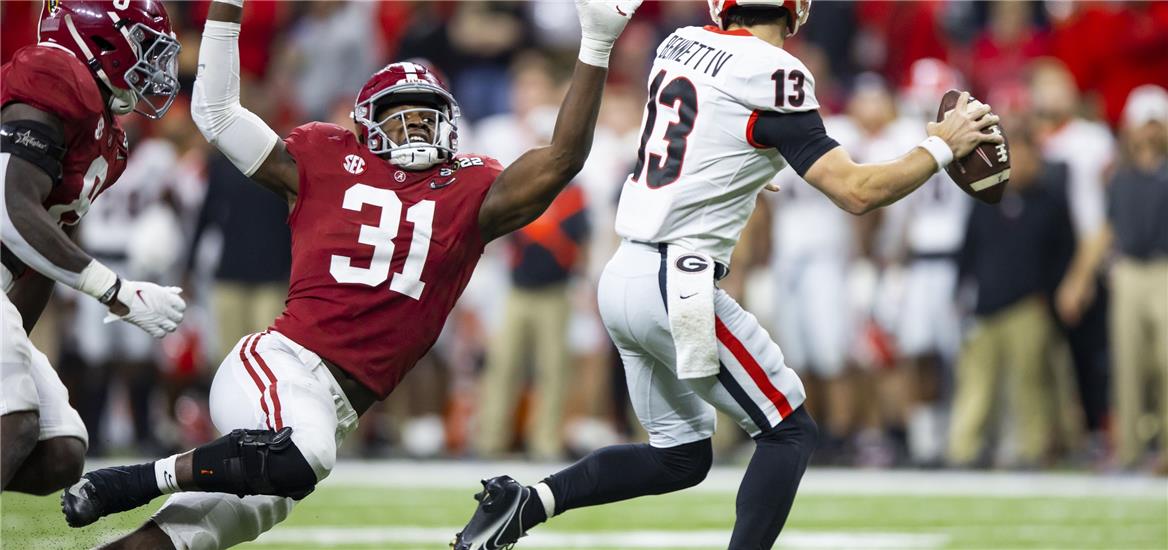 EDGE RUSHER RANKINGS 2023 NFL DRAFT
The 2023 EDGE class is by any means elite and is likely to be on par (or even better) than the previous years where we saw Chase Young, Nick Bosa, and Myles Garrett being picked at the top of the draft.

The obvious leader of the edge class is Alabama's OLB Will Young who is both an elite run defender and pass rusher and has the speed and measurables comparable to Von Miller. In 2021 he put up a huge 17.5 sacks and if he can keep up this level of play will be the first none quarterback selected.

Clemson's Miles Murphy a junior defensive end displays supreme power and at 275 lbs is equally able as both a run stuffer and pass rusher.
Nolan Smith from Georgia is an exciting prospect who has a ton of potential as a pass rusher but who saw limited opportunities in 2021 while playing behind a number of future NFL players at Georgia. Despite this, he still managed to put up 9 TFLs and 3.5 sacks, and since Smith is expected to be handed the starting role, he will have a chance to establish himself as one of the top edge rushers in the class.

Andre Carter III from Army has come from pretty much nowhere to become one of the most dominating pass rushers in football. This 6-7 265lb prospect has proved to be an impressive technician who managed 14.5 sacks and 16 TFLs in 2021. Expect him to only get better in 2022.