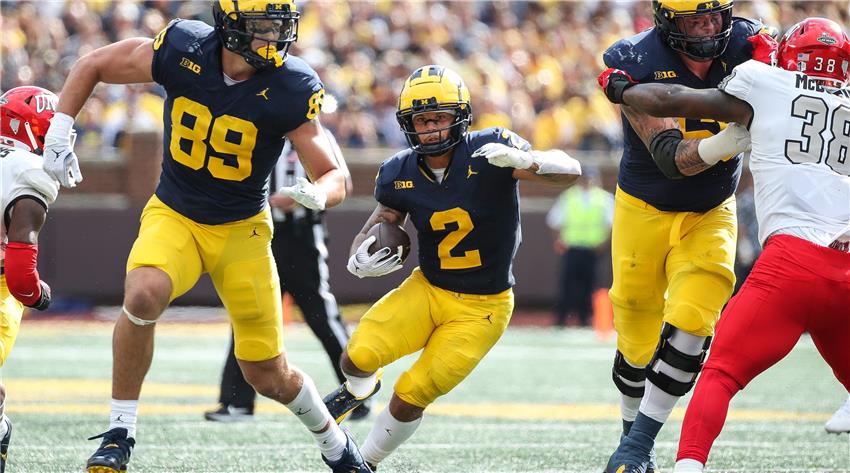 Blake Corum RB Michigan | NFL Draft Profile & Scouting Report
Blake Corum RB Michigan
NFL Draft Profile & Scouting Report
Last Updated:

09/15/2023

Draft Year:

2024

40 time:

4.38 seconds (94%*)

Age:

22.9

DOB:

11/25/2000

Measurables:

Height:

5-8 (8%*)

Weight:

210 (41%*)

Forty:

4.38 (O) (94%*)

Shuttle:

4.18 (HS) (76%*)

Vertical:

33 (HS) (39%*)

(C)

- NFL Combine

(P)

- Pro Day

(O)

- Other

(HS)

-Estimated from High School Combine

For an explanation of how the (HS) data is calculated see

this article

*Percentile calculated on how any given stat would rank at the NFL combine historically in the player's position group (Higher value represents better perfomance).
Last Updated:

09/15/2023

Draft Year:

2024

40 time:

4.38 seconds (94%*)

Age:

22.9

DOB:

11/25/2000

*Percentile calculated on how any given stat would rank at the NFL combine historically in the player's position group (Higher value represents better perfomance).
Overall Rating:

86.6 / 100

Game performance weighted rating
Rushing:

93%
Break Tackles:

72%
Receiving/Hands:

70%
Pass Blocking:

59%
Run Blocking:

62%

DRAFT PROJECTION:

2nd - Mid

Overall Rank:

#42

Position rank:

#2

College Games:

33

College Snaps:

945

Grade:

ESPN RATING: 84/100

OVR Rank:

#120

Pos Rank:

#13

Grade:

247 RATING: 94/100

Ovr Rank:

#232

Pos Rank:

#19

Grade:

RIVALS RATING: 5.9 (97%)
Draft Profile: Bio
Blake Corum, born November 25, 2000, in Marshall, Virginia, solidified his high school reputation as a premier talent at St. Frances Academy in Baltimore. His field prowess there earned him the distinction of Gatorade's 2019 Player of the Year for Maryland. Rated as a 4-star recruit by industry leaders ESPN and 247 Sports, Corum fielded offers from numerous top-tier programs before opting to wear the Maize and Blue of Michigan.

In his 2020 freshman campaign with the Wolverines, Corum saw action in six matchups. His stat line included 77 yards on the ground from 26 touches, averaging 3.0 yards per carry, and he found the end zone twice. Additionally, he contributed in the passing game, pulling down 5 receptions for a total of 73 yards.

The subsequent year, 2021, witnessed a more involved and impactful Corum. Over 12 games, he amassed 944 rushing yards on 144 attempts, impressively averaging 6.6 yards per carry and recording 11 rushing TDs. His hands also got more work, as he reeled in 24 receptions amounting to 141 yards.

Corum's junior year, 2022, further underscored his value as a vital cog in Michigan's offensive machine. He accumulated an impressive 1,461 yards on 248 rushes, averaging 5.9 yards per touch, coupled with 18 touchdowns. His pass-catching role was more subdued, rounding off at 10 catches for 82 yards.

Off the gridiron, Corum's commitment to academics didn't go unnoticed, earning him Academic All District 5 honors in 2021. Standing at 5-foot-8 and tipping the scales at 210 lbs, scouts and analysts are keenly watching this compact powerhouse as he prepares for the next phase of his football journey.
Scouting Report: Strengths
Boasts elite gym numbers with 30 reps at 225; 3-cone and shuttle times underline a rare combo of power and twitch.
Shows an innate feel for the game; presses the LOS effectively, frequently getting to the second level with nuanced vision.
Slippery in tight spaces; utilizes jump cuts, and stick-n-move agility to shake tacklers and find daylight.
Plug-and-play versatility; fluid in both zone and power schemes, flashing adaptability for OCs to capitalize on.
Leg churn and pad level are on point; often makes first tackler miss and can drop his shoulder to finish runs.
Compact but stout frame makes him a challenge in open space; defenders often resort to arm tackles, which he consistently runs through.
Home-run ability; hits the hole with a burst and has the juice to stack yards in chunks, forcing safeties to take bad angles.
Don't sleep on his size; though sub-6', his pound-for-pound explosiveness and wiggle can provide mismatch opportunities at the next level.
Scouting Report: Weaknesses
Durability red flags are evident; while not overtaxed with carries in college, the season-ending knee injury in 2022 is a cautionary note. Teams may shy away from viewing him as a bell-cow back due to health concerns.
Pass pro is a chink in the armor; while he showcases a favorable low center of gravity, he's raw in picking up blitz assignments. Needs to sharpen his football IQ to square up against savvy NFL linebackers and defensive ends in protection schemes.
Receiving chops need fine-tuning; to become a genuine dual-threat, he must widen his route tree, extending beyond the flats and checkdown areas. Cleaning up focus drops is paramount for third-down situations and gaining trust in high-leverage moments.
While he boasts a compact and stout frame, he doesn't bring the thump as a runner; lacks that hammering power in goal-line stands. Questions loom about his home-run capability given the absence of elite breakaway speed, hinting at a potential committee-back role at the pro level.
Scouting Report: Summary
Blake Corum exhibits a rare combination of short-area burst, twitchy lateral movement, and a low center of gravity that's sure to give defenders fits at the next level. His ability to deliver punishing runs while simultaneously spotting and exploiting opportunities for chunk gains speaks volumes about his vision and footwork. This isn't your every-down back, but Corum's skill set ensures that he's the guy you'll want for those pivotal plays, whether that's grinding out tough yardage or capitalizing on a gap in the defensive line.

His tape doesn't lie; among his draft class, Corum stands out as a top-tier pure runner. What jumps off the film is his consistent blend of football IQ, vision, patient yet decisive running, pinpoint footwork, and unmatched acceleration. These traits, combined with his unyielding toughness, enabled him to amass significant yardage between the tackles before his unfortunate injury.

Given the tangible skill set Corum brings to the table, it's hard to envision a scenario where he doesn't get picked up by the close of the draft's second day. While teams might be cautious due to his knee injury, Corum's inherent abilities, if leveraged correctly, suggest a productive NFL career.
How other scouting services rate Blake Corum (Overall Rank)
All Scouts AverageOverall Rank
49.6
All Scouts AveragePosition Rank
4.0