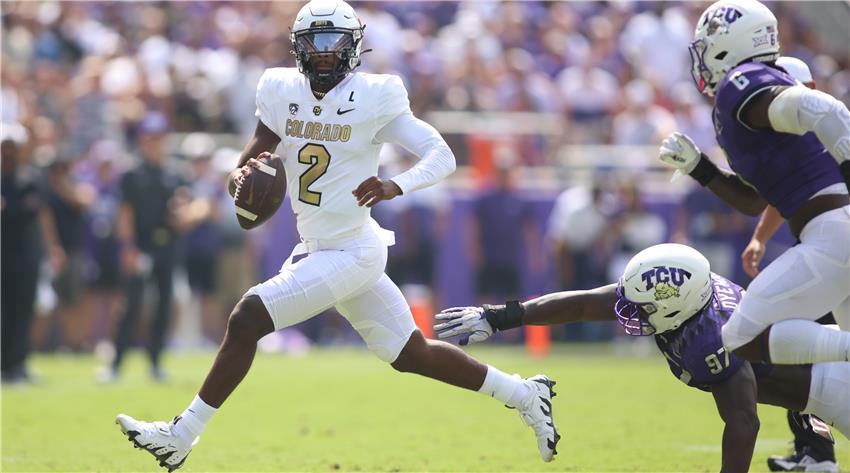 Breaking Down the Hype - could the 2024 NFL QB Class be the Best Ever?
The NFL Draft has long been a stage for future superstars to stake their claim, but every so often, a class comes through that promises to redefine the trajectory of the league. Enter the 2024 quarterback draft class. From arm talent to pocket presence, from football IQ to off-script playmaking, this class isn't just about the depth—it's about transcendent talent that's generating NFL draft buzz reminiscent of draft legends past.
For scouts with a keen eye for details and decades of draft boards in their memories, this QB crop presents a tapestry of potential franchise changers, the likes of which haven't been seen in years.
The Gold Standard: Historical Comparisons
When talking about legendary QB draft classes, the mind instantly shoots to the loaded rosters of 1983 and 2004—years where the names drafted went on to carve Hall of Fame careers and alter the course of NFL franchises. The 1983 draft saw the likes of John Elway, Dan Marino, and Jim Kelly, while 2004 boasted a trio of Eli Manning, Ben Roethlisberger, and Philip Rivers. Each of these players brought a unique blend of arm strength, touch, and field generalship that scouts drool over.
Transitioning from the gold standards of the past to the more recent benchmarks, the 2021 class had Trevor Lawrence—a prospect many labeled a "once-in-a-decade" talent—leading the charge with a buzz rating of 95.0%. He was closely followed by Justin Fields, whose elusive playmaking and raw passing power earned him a 92.1% rating. Fast forward to 2022 and 2023, and while the classes boasted names with high ceilings and intriguing skill sets, none reached the buzz generated by Caleb Williams of the 2024 class. His 95.5% rating, coupled with a football IQ that leaves even seasoned scouts nodding in approval, sets him slightly ahead of even Lawrence. And it's not just Williams; the depth in 2024, with players like Drake Maye and Shedeur Sanders breaking the 93% and 92% barriers respectively, reinforces the notion that this year isn't just about one or two big names. This is a class brimming with quarterbacks who exhibit the elite traits, intangibles, and "it" factors that talent evaluators crave.
Echoes of the Past: How Williams Stacks Up
When you lay out the game tape, Caleb Williams is a prospect who makes you sit up straighter in your seat. It's not just the Heisman-worthy numbers he's posted, but the way he navigates the pocket, senses pressure, and uncorks deep balls with effortless velocity that's left scouts feverishly annotating their notes. In the granular world of NFL scouting, Williams demonstrates elite anticipatory skills, allowing him to release the ball before his receivers make their breaks, showcasing a nuanced understanding of defensive schemes.
Comparatively, Trevor Lawrence, who held the scouting community in awe during his 2021 entry, exhibited similar traits—whether it was his prowess to make all the throws, his poise in the pocket, or his ability to execute in clutch situations. Lawrence's buzz rating of 95.0% felt deserved, but Williams, with a 95.5% rating, has done something few thought possible: outshine the Clemson standout. It's a difference of a mere half percentage point, but in scouting lingo, that's the difference between an elite talent and a generational one.
Then there's Bryce Young from the 2023 class, with his 93.6% rating. A dynamic playmaker who possesses the rare ability to extend plays outside the pocket and make accurate, on-the-run throws, Young is undoubtedly a cornerstone talent. However, when stacked against Williams, he falls short in terms of raw pocket-passing prowess and the innate ability to dissect complex defenses on the fly.
In the final analysis, while recent years have offered standout talents and QBs with incredibly high ceilings, Williams seems to have that intangible "it" factor which places him in an elite echelon of his own, even amidst the cream of the crop. It's this blend of skill, football IQ, and raw playmaking ability that has teams salivating at the prospect of him taking snaps under center for their franchise.
The Depth of 2024
The tape doesn't lie, and in the realm of NFL scouting, neither do the numbers. The buzz ratings, an amalgamation of raw talent, potential, and immediate NFL-readiness, have historically been a good barometer for gauging a draft class's depth. And the 2024 class? Well, it's not just deep—it's Marianas Trench deep.
For starters, let's stack up the numbers. The three years prior to 2024 saw a mix of promising quarterbacks, but none of the classes had more than two QBs boasting a rating north of 92%. But 2024? Three quarterbacks — Williams, Maye, and Sanders — each possess ratings surpassing this benchmark. Sanders, in particular, is a scout's dream: showcasing a keen ability to make NFL-caliber reads with a buzz rating of 92.1%, he's nipping at the heels of 2021 standout Justin Fields.
But it's not just about the top-tier. The overall depth in the 2024 class is where the real story is. With seven quarterbacks surpassing the 90% buzz threshold, this class stands head and shoulders above its immediate predecessors. For context, the 2021 class, touted as one of the deeper recent drafts, had four QBs above this mark. The 2024 class nearly doubles that number. Players like Quinn Ewers and Michael Penix Jr., with ratings of 90.4% and 91.5% respectively, could very well have been the crown jewels in other drafts, but in 2024, they're part of an elite ensemble.
This kind of depth isn't just rare—it's historically anomalous. A class where teams picking late in the first round might still land a potential franchise quarterback is a scout's El Dorado. And as the college season progresses, one thing becomes evident: the 2024 QB class isn't just good—it's on course to set a new gold standard in NFL draft history.
Closing the Book: An Unprecedented Wave of Talent
As the echoes of countless draft classes reverberate through the annals of NFL history, 2024 stands poised to carve its own indelible mark. It's not just about the elite prospects at the top, but the sheer depth and breadth of talent that makes this class so special. In an era where the quarterback position has never been more pivotal to a team's success, the richness of options available for franchises is truly unprecedented.
But beyond the statistics and the tape, what truly sets this class apart is the palpable excitement and anticipation it has generated within the scouting community and fanbases alike. There's a collective sense, a shared intuition among NFL aficionados, that many of these quarterbacks will not only find success at the professional level but could very well go on to redefine the very nature of the position in the league.
In closing, as the draft day approaches, one can't help but feel that we're on the precipice of a transformative moment in the NFL. The 2024 quarterback class, with its blend of top-tier elites and incredible depth, is set to usher in a new era—a moment in time that we'll likely be talking about for decades to come.