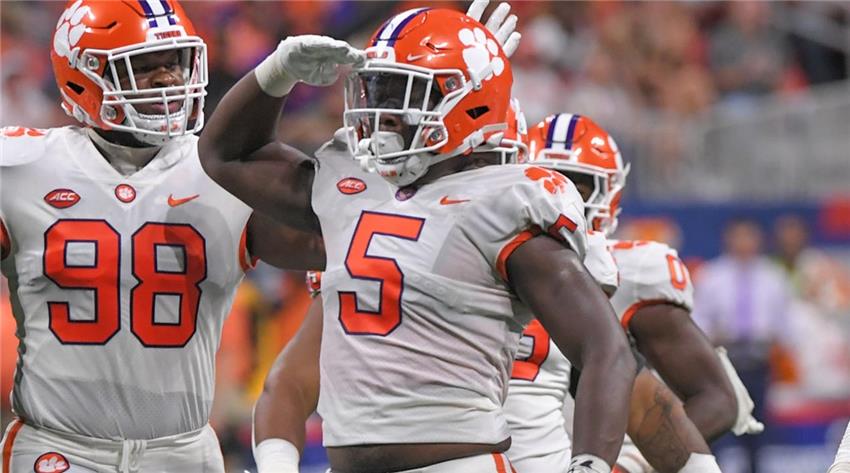 Clemson Tigers Defense - Analysis of the Defensive Prospects
Every year there is always that one team loaded with draft prospects, and Clemson is not an exception. Like the historic Alabama team with Devonta Smith and Jaylen Waddle in 2021 and the record breaking Georgia team with Travon Walker and co. in 2022, Clemson boasts several top prospects, especially on the defensive side of the ball. I will give an in depth analysis on the top Clemson prospects from what could be considered one of the top defenses in college football.
Projected Draft Range: Late Third - Early Fourth
Talent wise, K.J Henry may be the 4th best pass rusher for Clemson - which goes to show how elite the Clemson defense truly is. Despite going unnoticed in the draft due to the presence of first-round prospects like Myles Murphy and Bryan Bresee, Henry's leadership and production for Clemson will be hard to replace. Henry is a phenomenal athlete, boasting a 4.6 40 yard dash and possessing an ideal frame standing at six foot four inches tall and weighing 251 pounds. His best asset are his hands - he is violent, strong, and aggressive. While he could improve in setting the edge and playing more to his size, K.J Henry has the athleticism, mentality, and potential that teams will desire come draft day.
Projected Draft Range: Mid Second - Late Second
Two months ago, Trenton Simpson was considered a first round lock. Now, most have him going no earlier than the second round. That's the nature of the draft - things can change in an instant.
But it shouldn't discredit Simpson's ability as a linebacker - Simpson locked up the middle of the field for Clemson and proved to be a cornerstone piece on defense. The third team All ACC selection was everywhere on the field, playing anywhere from the slot to up front on the defensive line. However, his best attribute is his freak athleticism. In 2022, He made Bruce Feldman's Freak List, who wrote, " The 6-3, 240-pounder, who only has 6 percent body fat, ranked third on the team with 78 tackles and finished second in both tackles for loss (12.0) and sacks (six).Simpson bench-presses 375 pounds, power-cleaned 355 and has vertical-jumped 35 inches and done 10-2 on the broad jump…" Overall, his athleticism and versatility coupled with his instinctive and flashy play style will grant him a spot in the NFL.
Projected Draft Range: First Round?
Bryan Bresee, undoubtedly one of the most talented prospects leading up to the draft, remains somewhat of a mystery due to concerns about his injury history. While he possesses exceptional intangibles, such as versatility, athleticism, and explosiveness, his health concerns may cause him to slide down draft boards. Over the past 2 seasons, Bresee has played less than 500 snaps - numbers that scare NFL teams. Despite these concerns, Bresee has the potential to be a force in the league if he remains healthy. He is known for his twitch and explosiveness but also his football IQ and instincts. If his medical evaluations check out, Bresee has the ability to solidify himself as a first-round pick.
Projected Draft Range: Early - Mid First Round
Myles Murphy is evidently the best prospect out of a strong crop of players from Clemson. He's a rare blend of raw speed and power that gives him the upper hand against most linemen he is put against. Oh, and he benches 405 pounds, power-cleans 335 pounds, and deadlifts 505 pounds - scary but enticing numbers. He plays with a high motor, instinct, and flashiness that will definitely appeal potential NFL suitors. While he remains a bit raw in his technique, the sky is the limit for Murphy and he has the potential to be a top 5 pick in the 2023 draft.