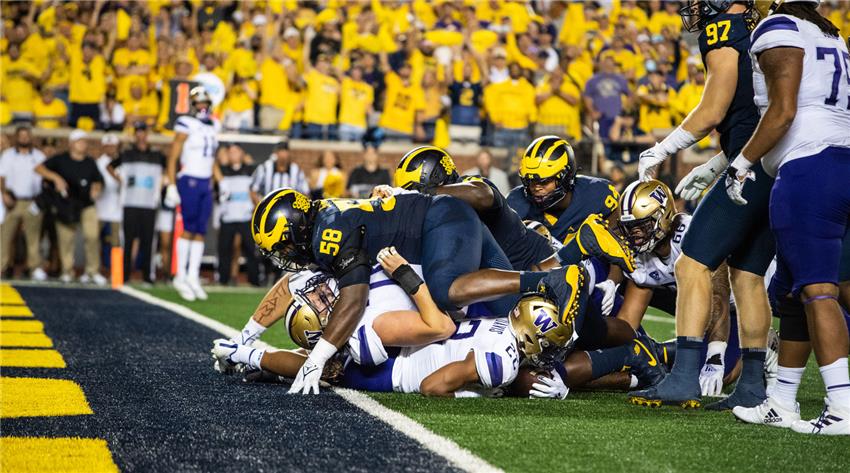 Crazy Combine numbers are great, but back to the film
I can think of several off the top of my head right now. Guys who killed it in Indianapolis and GM's running out of the Combine convinced they had found the next NFL superstar. Though the Combine is always fun and a display of the best athletes in the world, if you want a good football player, don't get locked into the numbers without returning to the tape.
I understand the pressure that the GM's deal with. In truth, the majority of them have just as short of NFL lives as Head Coaches. Ozzie Newsome-type careers are in the minority. Most come and go. So I understand that a GM would see the fast 40 time or the crazy bench press rep numbers and be intrigued. Add in the measurables of a man that "they do not believe should be able to do that" and you start to hear the voices. The guy next to you brags about knowing the talent was that good all along and starts talking about drafting the prospect. Gamesmanship I know, but if you are picking at 7 and the guy talking is picking at 6, you start to worry despite yourself. If you hit, you are a genius and if you miss, you are fired. Worse, if you pass and the guy behind you hits, you are at fault for missing what we all know is obvious. GM is a tough spot on draft night.
The great GM mistake usually happens at this point. The Combine numbers create buzz. The GM feels like they must respond to the buzz. Even if you prefer another prospect, you wonder if there is security in drafting the guy with the big numbers and the big measurables. You are safe picking the Combine Warrior because everyone is excited about him and you gave your fan base the pick of the people. Many remember the awkward moment when the Dolphins selected Ted Ginn Jr at 9 when the fan base wanted Brady Quinn. This thinking has 50-50 success and in the end, the fan will still be with the team, the GM will not.
The first cautionary tale that comes to mind is Darrius Hayward Bey. He has arguably the best Combine performance in history. Came in at almost 6'2 210 pounds. He got up to 23.5 miles per hour on the back end of his 40-yard dash. He jumped 38.5 with all that muscle on him. He looked the part in every way. Al Davis(Who after drafting the Raiders drafted Ruggs I was almost convinced he was still alive) did as he always does and drafted the fastest guy in the draft. Davis, like many in ownership and NFL offices, do not watch film. He is told about a prospect, hears about big numbers, at most sees a highlight, and makes a decision based on that.
The problem with Bey is that if you had gone to the film, you would have noticed that his best touchdown output in a season was 5. That is very low production for an elite player. Bey wasn't even an All-Big Ten Team selection. The problem with most GMs at this point is what do they do when the workout doesn't match the production? The first course of action is to explain it away. Jordan Steffy was supposed to be QB1 at Maryland that year and he was injured in the first game, giving the job to Chris Turner who did not play well and had 13 touchdowns to 11 interceptions. So if you want a reason to look down on his production, then you can say he didn't have a good supporting cast or consistent quarterback play. The obvious problem with that is, does your organization currently have consistent quarterback play? Bey was drafted into a team with the same problems as his college team and his production was hurt. He has been on several NFL rosters and has yet to meet the expectations of a top-10 pick. I wouldn't say it's his fault. He gets the right QB or system and he could have been a Percy Harvin-type force in the NFL. However, he was a miss and played for several coaches in his time with the Raiders.
Another Cautionary tale is Troy Williamson. Very similar case to Bey. He did not have a lot of production in college, but he had the great forty time. Once again people looked at his supporting cast and quarterback play and they explained away his low offensive output. The added problem with Williamson is that the Vikings had just traded away Randy Moss. They needed someone who their fan base would gravitate towards that could possibly replace the magic that had with 84. Horrible pressure to put on a young prospect. Unfortunately, Williamson was a miss and he had trouble catching the ball once he did get the separation he was drafted for.
On the defensive side of the ball, there is a bit of protection with making the wrong pick. Offensive players are always seen as the savior or the missing piece to a Super Bowl run. Defensive players are rarely given that distinction despite the fact that in many cases, a Ray Lewis or a Michael Strahan are the reasons for the Super Bowl success. Despite having less pressure on you if you draft a defensive player, one can still fall guilty of the Combine buzz that leads to a bad pick. Isaiah Wilson passes the eye test. He was a hulk walking around at the combine. 6'6, 350. He had solid combine numbers, but the size jumped out at you more than anything. His size helped GMs overlook his just alright production and take a chance on him because he was once a 5-star HS prospect. He has been on 3 teams since 2020. The eye test outweighed the film test and he was a miss.
Now it's not an exact science. There are players who didn't kill it at the combine who went on to have great careers and players who didn't have the great college production who went on to HOF success in the NFL. JJ Watt had just alright college numbers, 4 sacks one year and 7.5 the second. He also killed it at the combine. Coming in as a monster 6'5 and change at 290. He was awesome at every number you can think of, 40, vert, bench, etc. So how did he get picked 11th and go on to have a HOF career? It goes back to my original point. You have to look at the film. If you do, you see Watt has the push, that he is a disrupter, and his hurries number was very high. You'd miss this if you just looked at surface because those aren't really numbers you can bite into like sacks and TFLs. The film work reveals it. Jalen Reager had a huge drop in his 2019 season and he still played 12 games. His Combine numbers, which included a 42-inch vert and 4.4 forty helped the Eagles to look the other way. Meanwhile, Justin Jefferson's production went up, including an awesome 2019 campaign where he had 18 touchdowns and killed it in workouts. The difference between a future HOF receiver and a roster filler is one pick. Minnesota Hit, Philly missed. Commitment to what you see on film would have aided Philly in their decision. It appears they went off the workout numbers and they missed. Even if Minnesota had missed they would have at least had an argument that the workout matched the film. Philly would not have that argument.
Now drafting is not an exact science. Courtney Brown had the production and the workout numbers, but he was simply a solid NFL starter and never a game-changer. Terrell Suggs had insane college production, a lackluster Combine performance, but a HOF NFL career. As these GMs and coaches sit down and marvel over the combine numbers, remember it's just part of the process and not the end goal. You want to draft starters for your team that will contribute on a high level. If you allow your fan base, the buzz, or the Combine performance to supplement film work, you will miss way more than you hit.
Written by Steven Wright
Follow @steventhewarman