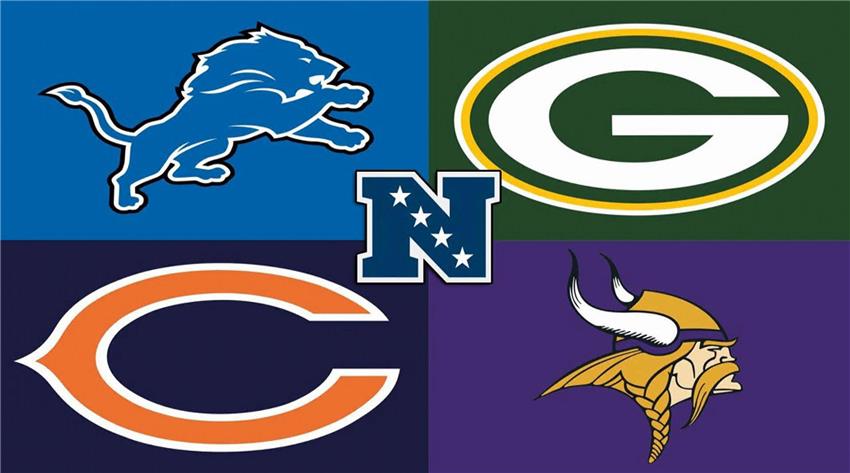 NFC NORTH TEAM NEEDS HEADING INTO FREE AGENCY AND THE 2023 NFL DRAFT
The NFC North has maintained a fairly consistent power dynamic over the past decade or so. The Packers have usually been at the top of the division, followed by the Vikings, then by the Bears and Lions at the bottom of the division.
Moving forward, that's set to change completely. Detroit and Minnesota are arguably the two most dangerous teams in the division for next year, and there's a lot of question marks surrounding the other two teams and their futures. Today, we'll look at each team and what they can do to improve their chances of taking this open division.
MINNESOTA VIKINGS
Cornerback - The Vikings need help in the secondary. Badly. Patrick Peterson had a surprisingly solid year considering his age, but Minnesota can't live on the prayer that he'll continue to produce at a high level. They need some youth and depth at the cornerback position, so they could look to the draft to find somebody who will be cheap and effective on the backside of the defense. Our latest mock draft has them taking Alabama's Brian Branch, who could be an elite slot cornerback in the NFL.
Wide Receiver - We all know Justin Jefferson is a top-three receiver in football, but he can't do it all on his own. It was too easy for defenses to double team him this year, and that's because they don't have any other major receiving threats out wide. Adam Thielen used to be that guy, but he's aging and has clearly lost a step. They don't necessarily need to draft somebody to fill that role; grabbing somebody like Odell Beckam Jr., Jakobi Meyers, or Allen Lazard in free agency would likely be enough to take some pressure off Jefferson and open things up for the run game.
Linebacker - This unit was held down by veterans Eric Kendricks and Jordan Hicks in 2022, but the team is expected to move on from one (or both) of them at some point this off-season. That will leave them with a very clear void on the defense, which is already sub-par to begin with. They'll likely want to bring in a young guy who can be the leader of this defense for years to come, and they could look to somebody like Trenton Simpson or Drew Sanders to fill that role at pick 24.
DETROIT LIONS
Tight End - The team traded away former first-round pick T.J. Hockenson at the trade deadline last year, and they sorely missed him. They didn't have anybody else that could consistently produce at that position for them, but luckily, it's a great tight end draft class this year. It would be a good decision for them to spend a pick on day one or day two on a high-upside TE who can add another element to this already-electric offense.
Cornerback - Jeff Okudah showed some promise after a couple of injury-riddled seasons to start his career, and there's high hopes that he can turn out to be a productive player. Regardless of whether or not that happens, Detroit will need more help at the position. They lack both the depth and high-end talent to lock up opposing WR1's, and they'll need that in a division with good young receivers like Justin Jefferson and Christian Watson. Our latest mock draft featured them grabbing Devon Witherspoon from Illinois with a top-ten pick, who has been one of the hottest rising cornerbacks of the off-season.
Defensive Tackle - Detroit's offense was among the league's best last year, but their lackluster defense is what forced them to miss the playoffs. The team struck gold at the defensive end position in the 2022 draft with Aidan Hutchinson and James Houston IV, but now they need more help on the interior. Our latest mock draft projects them to take DT Bryan Bresee with the second of their two first-round picks. He's a boom-or-bust type of prospect who could take this defense to the next level if properly coached and developed.
GREEN BAY PACKERS
Wide Receiver - The days of Davante Adams are over, and it showed for the Packers this year. Green Bay's group of wide receivers simply wasn't very good. Christian Watson emerged as the best of the bunch in the middle of the season, and while he displayed some real potential, he's not a bona fide WR1 for this team yet. Allen Lazard is also likely to walk in free agency, so they'll need to bring in a veteran to lead and teach this unit of young receivers.
Edge - Za'Darius Smith is gone and Rashan Gary tore his ACL. Tough luck, right? They've lost their best edge guys from the past couple of seasons, and while Gary will likely recover from his injury, there's no guarantee that he'll be the same player that he was before blowing out his knee. So, the team will need help. It doesn't matter where they get it; a trade, the draft, or free agency would all suffice. They just need to acquire some new bodies who can help Green Bay get to the quarterback effectively.
Tight End - Having an effective tight end used to be viewed as a 'luxury' in the NFL rather than a necessity, but we've seen just how important they can be over the past few years. The Packers don't have any key contributors at the position; the closest thing they have would be Robert Tonyan, who totaled under 500 receiving yards on the season. If they decide to move forward with Jordan Love at the helm instead of Aaron Rodgers, it will be even more important to get him a safety blanket underneath to help stabilize an otherwise-iffy receiving corps.
CHICAGO BEARS
Offensive Tackle - There's some hope that Tevin Jekins will be able to develop into a solid starting lineman, but they'll still need a lot of help if they want to keep Justin Fields safe behind the line of scrimmage. We saw him take multiple big hits this year and run for his life out of the pocket, and they'll need to invest in some lineman to protect him if they truly view him as the future of their franchise. Our latest mock has them taking Peter Skoronski from Northwestern, who allowed only six pressures and one sack in 2022 and ranked among college football's best offensive linemen.
Edge - Robert Quinn and Khalil Mack are now both distant memories for the Bears, and it's time for them to begin rebuilding this unit. They usually pride themselves on having a tough defense, but that hasn't really been the case over the past few years. The edge position is arguably the most important on the defense, so they would be well-suited investing some heavy capital into developing young talent on the line.
Wide Receiver - Once again, the theme remains: Justin Fields needs help. He had to run for his life partially due to the fact that the Bears' offensive line couldn't block well enough for him, but the receiving corps is also to blame for not getting open quickly or consistently enough. Luckily, Chicago leads the NFL in cap space this off-season and has the first-overall pick in this year's draft, so they shouldn't have a problem securing one or more good players to help shore up this receiving room.