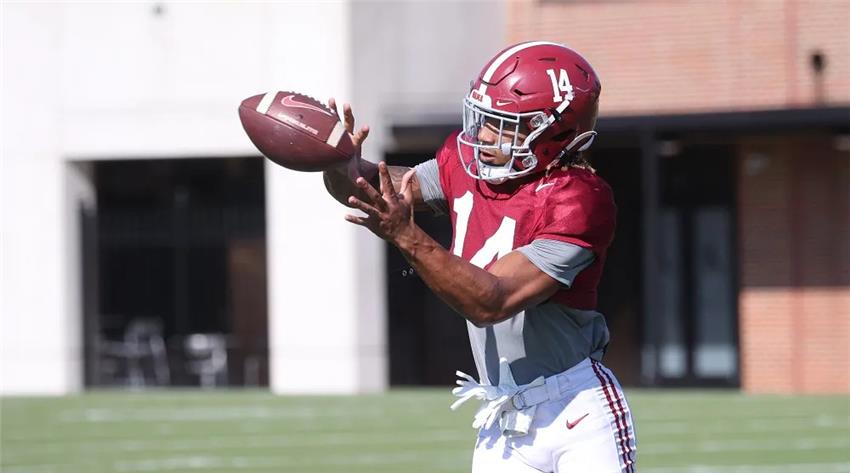 Patrolling The Deep - Jay's Safety Prospects
This NFL draft class is special - at more than one position. I haven't seen such a draft with the level of depth at skill positions as in the 2023 class. Quarterback, Edge, Cornerback, Tackle, and my personal favorite - Safety - are all positions containing players with star potential. Through statistics, analytics, and watching on-field play, I have compiled a list of potential safeties who may hear their name called early on draft night.
5. Jammie Robinson - Florida State
Jammie Robinson is like a heat-seeking missile, with one objective - to make big hits and make plays the football. Despite being somewhat on the smaller side at 5' 11'', Robinson is not lacking i n physicality, violence, or explosiveness. These uber-aggressive traits give him an elite burst to finish tackles, the ability to quickly diagnose plays, and impressively get off blockers bigger than him to make winning plays on the football. Thanks to his high motor, swagger, and competitiveness, Robinson is eager to shoot gaps against the run and make gritty tackles late in the game - skills that teams covet. He doesn't lack in the passing game either - Robinson displayed the ability to win in multiple ways while playing at FSU. He consistently covers in zone defense, which he proved with six pass breakups and an impressive 2.4 yards allowed per target. He was all over in the defensive backfield through his senior season, playing in the box, in the slot, and back deep. However, it becomes obvious that Robinson most ideal role is as a strong safety with primarily run coverage and some zone coverage responsibilities. I believe he will become a special teams ace straight away and, if he can hold up in the NFL, a starting-caliber safety.
Draft Projection: Mid - Late 3rd
4. Brandon Joseph - Notre Dame
I was a big fan of Brandon Joseph when he played at Northwestern, and I remain a big fan now. He is a stud at safety and has the prerequisite size (6' 1'', 196 lbs) to be effective in the NFL. His best traits may be his ballhawk skills as a safety - Joseph tracks the ball extremely well, as evidenced by his 10 interceptions during his collegiate career. Joseph plays with excellent burst and high energy, which he uses to his advantage in the run and pass game. Although Joseph could work on his consistency, he is overall a high-floor player who can be a solid safety in the right system.
Draft Projection: Early - Mid 3rd
3. Jordan Battle - Alabama
Jordan Battle has the skills of a linebacker, the build of a cornerback, and the vision of a running back despite playing safety. Battle put these talents to good use to become a productive strong safety for the Crimson Tide. Battle's strongest suites are his quick decision-making, ability to come downhill and support the run game, and his vision on the football field. While he doesn't have the range or speed of many of the other prospects in this draft, his traits give him scheme versatility that teams will love when drafting this April.
Draft Projection: Late 2nd - Early 3rd
2. Antonio Johnson - Texas A & M
Cornerback, safety, linebacker - you name it, Texas A&M Aggies star safety prospect Antonio Johnson can play it. Johnson has the rare ability to line up anywhere in the defensive backfield and excel at each position. His athletic profile is outstanding, standing at a nice size of 6'3'' and weighing 195 pounds. Johnson is a smart football player and has a good feel for zone coverages, man coverage, and even press coverage. He is not lacking in run defense either, often seen taking on blocks to open up the field for his teammates. He reminds me a lot of Jaquan Brisker when he was coming out of Penn State. If drafted by the right team and scheme, Antonio Johnson can cement himself as one of the best rookie safeties in this draft.
Draft Projection: Late 1st - Early 2nd
1. Brian Branch - Alabama
It is not surprising Alabama headlines this list with not one but two of the top safeties in this draft class. Alabama just has a knack of producing NFL caliber talent, and Brian Branch is a great example. While not a true safety in certain aspects, Branch has the ability to play the deep backfield if asked of him. Like the aforementioned Antonio Johnson, Branch has the ability to play anywhere on the defense, but he may be best suited to play as a nickel corner. Branch is exceptional in his abilities to recognize plays and mirroring opposing receivers. This should not discredit his abilities as a deep safety, however. Branch is a disruptive defender, efficiently coming downhill to support in the run game and playing anywhere against the pass to make plays. Branch's versatility, run defense support, and overall athleticism will be reasons for teams to invest in Brian Branch, who may be the best defensive back in the draft.
Draft Projection: Early - Mid 1st